*Previously Recorded by Phyllis Schlafly // February 7, 2005
Yesterday was Ronald Reagan's birthday and it is important that we preserve his legacy. We surely can't expect the academic community or the professional historians to do that for us. University history departments are dominated by left wingers and even Marxists who hate everything Ronald Reagan stood for.  Nor can we depend on the mainstream media to be kind to Reagan. Big Media have always been biased against him. It's just second nature for Big Media to criticize conservatives while describing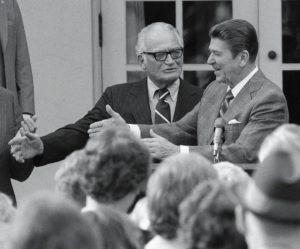 liberals in flattering terms.
Young people need to be reminded that President Reagan restored America's national confidence, propelled our economy into the longest expansion in history, and, in the famous words of Margaret Thatcher, "won the Cold War without firing a shot."
Ronald Reagan was a man of principle. As president of the Screen Actors Guild in Hollywood, as an advocate  for Barry Goldwater's presidential bid in 1964, as a candidate for president in 1976 and 1980, and as president from 1981 to 1989, Reagan was always steadfast in what he believed.  You should  reread  the great speech he gave in 1964 that propelled him to national prominence. The conservative message that he believed in is right there: tax cuts, smaller government, standing up for American interests, and doing the right thing.
Ronald Reagan was a man of great faith in America and optimism about the future. That's why he talked so often about America being a shining city on a hill.
It was my pleasure to have worked hard for Ronald Reagan when he ran for President, and it was my honor to have visited the White House many times while he lived there. Reagan was warm-hearted,  fun to  be with, confident  that  he was fulfilling the mission God laid out for his life, and humble as he exercised the vast powers of the American presidency. Ronald Reagan was our greatest 20th-century President.