Harry Truman pulled out a sweeping victory in the presidential election of 1948 that stunned the experts and the press, which even ran a famous "Dewey Defeats Truman" headline on election night. History may be repeating itself now.
Behind in the polls, Truman campaigned to large crowds at train stops as he traveled the country. Today Trump does likewise at airports.
"Give 'em hell, Harry" was the campaign slogan for Truman in 1948 that began when a supporter shouted it at one of his rallies. Truman responded extemporaneously, "I just tell the truth about them, and they think it's hell."
Trump shares the same first four letters as Truman, and Election Day this year is very early in November as it was in 1948. Both mocked their political rivals with nicknames, as Truman called the distinguished Senator Fulbright, "Senator Half-bright."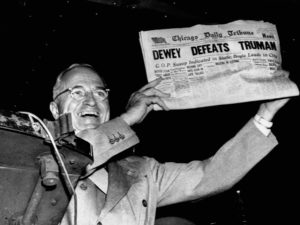 America, unlike England, loves the scrappy underdog who does not give up. That was Harry Truman in 1948, and President Trump today.
Trump has always been at his best when he is striking back against the elite, the media, and even some in his own Republican Party. It was no different at this time in 2016, when Trump had to overcome a tidal wave of criticism from nearly all sides in order to prevail.
Truman liked to fire people, as Trump has appropriately done. Truman, like Trump, also had a healthy disdain for the Swamp.
Meanwhile, for months Joe Biden has been channeling Thomas Dewey, Truman's heavily favored opponent. Both Dewey and now Biden campaigned little, and instead relied on polls and experts who said they were a shoo-in to win the election.
Truman, like Trump, had pollsters telling him his approval ratings were too low to win. Some in his own party were even dismayed that Truman ran for reelection.
Truman, like Trump, appealed most to those without a college education. Truman, like Trump, had to fight a Congress that was controlled by the opposite party.
Truman wrangled against the media much as Trump does. When a Washington Post music critic wrote a harsh review of an unimpressive recital by Truman's only child Margaret, Truman responded furiously by threatening him in writing.
"Some day I hope to meet you," Truman wrote to the journalist Paul Hume. "When that happens, you'll need a new nose, a lot of beefsteak for black eyes, and perhaps a supporter below!"
The media was aghast at this and other crass behavior by Truman, but it did not hurt him with voters out in the Midwest. Trump's tenacious standing up against the media is also endearing him to voters.
When the 1948 election night returns began to roll in from the Eastern states, Dewey won states that experts thought sewed up the victory for him. He prevailed in places which he had lost four years earlier against FDR.
But then the Midwest stunned the experts by breaking Truman's way, just as the Midwest could put Trump over the top in this election. Trump's repudiation of the elite resonates in middle America, as it did for Truman.
The turnout in 1948 was low, just as it might be this year in light of how the television audience for the first presidential debate was down by more than 10% from 2016. An anemic overall turnout would probably help Trump, as it would be a more informed electorate rather than low information voters.
Worse than Dewey's failure to campaign much in 1948, Biden is refusing even to answer basic questions about what he would do as president. Biden repeatedly dodges questions, as he did at the debate, about whether he will unfairly pack the Supreme Court with additional new justices.
Biden declined to debate Trump in person this week, which did not work for Jimmy Carter in 1980. First Carter did not show up for a debate with Ronald Reagan, and only later as polling broke against him did Carter agree to debate in what was by then too little, too late for him.
Voters, particularly in the Midwest, did not feel they knew what the easterner Dewey really stood for, or did not like what they did know about him. Many voters feel the same way about Biden.
Few are willing to show up for a Biden campaign event, in contrast with how thousands show up for Trump rallies despite how he has had COVID-19. On Sunday a massive crowd of thousands of cars paraded in support of Trump in Miami, in anticipation of his visit to Florida Monday night.
Signs, some in Spanish, declared their enthusiastic support for Trump and called for freedom in Cuba, Venezuela, and Nicaragua. "Say NO to socialismo/communismo," one sign exclaimed, grateful that Trump took a strong stance at the first debate against Biden's socialist policies.
John and Andy Schlafly are sons of Phyllis Schlafly (1924-2016) and lead the continuing Phyllis Schlafly Eagles organizations with writing and policy work.