Stop ERA Again Resources
One of Phyllis's crowning achievements was to expose the truth about ERA. Most protections its proponents claim would benefit women are already codified in U.S. law, such as Equal Pay for Equal Work and the Equal Credit Act. In fact, laws which discriminate do so to protect women — such as exempting them from serving equally in military combat or allowing schools, prisons, and domestic violence shelters to exclude men on the basis of sex. But while much uncertainty swirls, one fact is not up for debate — the connection between ERA and abortion, redefinition of gender, and eradication of the natural family unit.
ERA supporters are playing fast and loose with the facts about the content and process of the Equal Rights Amendment! Don't be fooled. Learn from history and study the facts of the battle over ERA. 
Women's Rights Already Codified

Statement by Andy Schlafly,
Lawyer & Phyllis Schlafly's son

The ERA / Abortion Connection

Statement by Father Frank Pavone,
National Director of Priests for Life

National Right to Life Committee

February 6, 2019 Letter to the Senate

Playlist: — Phyllis Schlafly on the ERA:  

Email stopera@phyllisschlafly.com to order your free stickers today!

🇺🇸  Promote your Opinion  🇺🇸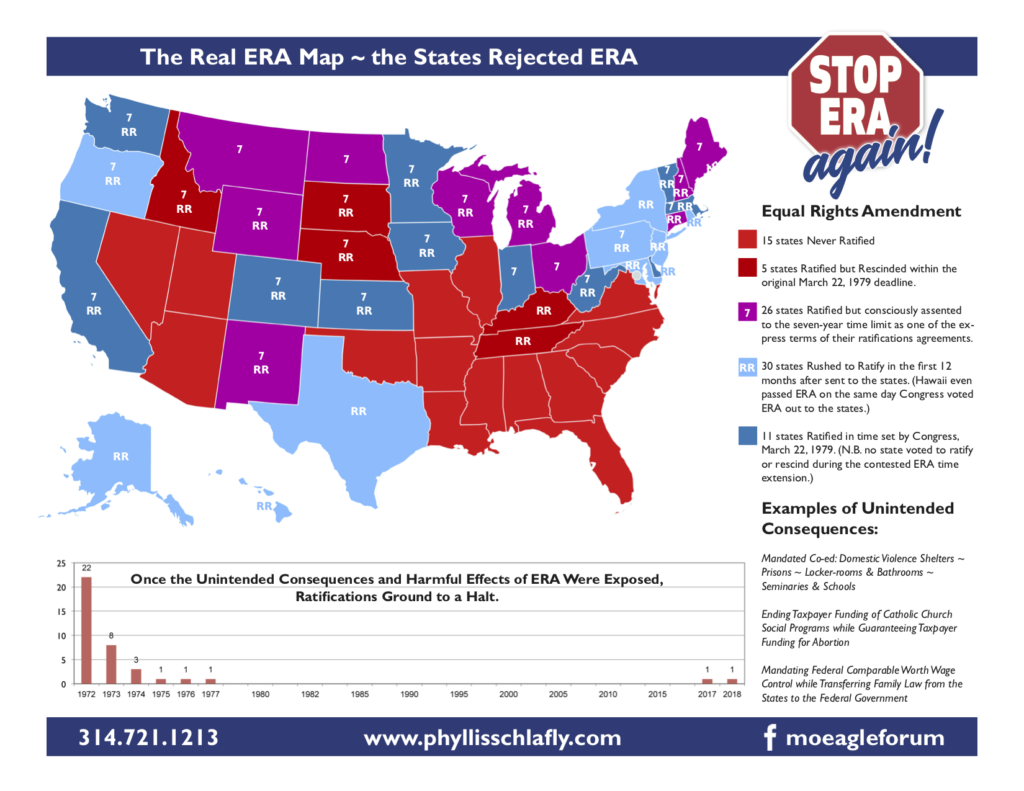 Reading & Research from Phyllis
What's Wrong with 'Equal Rights' for Women?

Phyllis Schlafly Report, February 1972

The Fraud Called The Equal Rights Amendment

Phyllis Schlafly Report, May 1972

What The Equal Rights Amendment Means

Excerpt, Phyllis Schlafly Report, January 1973

Dear Legislator: The Buck Stops with You

Phyllis Schlafly Report, February 1973

Section 2 of the Equal Rights Amendment

Phyllis Schlafly Report, May 1973

ERA Won't Help Women in Education

Phyllis Schlafly Report, September 1973

How ERA Will Hurt Divorced Women

Phyllis Schlafly Report, May 1974

How ERA Will Affect Social Security

Phyllis Schlafly Report, October 1974

How ERA Will Affect Churches and Private Schools

Phyllis Schlafly Report, March 1975

How E.R.A. Will Affect Athletes

Phyllis Schlafly Report, April 1975

The Hypocrisy of ERA Proponents

Phyllis Schlafly Report, July 1975

ERA

and

Women's Colleges

Phyllis Schlafly Report, February 1976

The Legislative History of ERA

Phyllis Schlafly Report, November 1975

What Really Happened in Houston

Phyllis Schlafly Report, December 1977

How ERA Will Raise Insurance Rates

Phyllis Schlafly Report, February 1979

Do Women Get Equal Pay for Equal Work?

Phyllis Schlafly Report, May 1981

A Short History of E.R.A.

Phyllis Schlafly Report, September 1986