Major League Baseball shamefully pandered to Leftists by pulling the All-Star game out of Georgia. Trump's strong response in calling for a boycott of MLB deserves a standing ovation, and Texas Governor Greg Abbott announced that Texas will no longer seek to host MLB events.
Baseball should remain the timeless sport which unified America ever since the Civil War. The armies of the North and the South would take breaks to play a friendly game of baseball with each other.
Healthy rivalries between the National and American Leagues, and other professional baseball leagues, subsequently kept the game on track for more than a century as fans found refuge in it from real conflicts. Millions of boys, like the future governor of Florida, Ron DeSantis, developed character and fitness playing in the Little League.
Liberals have hijacked MLB to misuse it "to stop what happened in Georgia from happening in other states," as Democrat Stacey Abrams admitted. Election integrity bills similar to Georgia's are being considered in other states, and Leftists are enlisting executives to try to stop enactment of this good legislation.
MLB Commissioner Rob Manfred belongs to the ultra-exclusive Augusta National Golf Club, which hosts the Masters Tournament in Georgia this week. Rather than grandstand to the detriment of baseball, Manfred could have looked in his own mirror instead.
Stadiums are built for sports leagues at taxpayer expense, and some impoverished cities such as St. Louis are burdened with the debt long after a football team abandons the town for another stadium somewhere else. Billionaire team owners milk taxpayers to fund stadiums and arenas for the owners' enrichment.
Over-hyped sports events, such as the All-Star game or Super Bowl, can actually cause a net loss to the local region in security costs and declines in revenue to small businesses. It is common for local businesses to complain about how little benefit they actually receive from high-profile games like the Super Bowl.
Liberals absurdly claim that the pullout of the All-Star game will cost Georgia's Cobb County $100 million, although only 8,000 hotel room nights were booked for the event. Visitors would have to spend in excess of $10,000 apiece to reach that estimated loss, when the average sports fan probably spends far less.
Moreover, most of the revenue is to hotel chains like Marriott that have already pushed the liberal agenda by announcing that they will not donate to Republicans who voted against fraud in the last election. Local spending on professional sports events rarely reaches the pockets of the little guy.
State legislators should be examining how much professional sports leagues are really costing their residents, rather than worrying about a retaliatory cancellation of an event. Georgia and other states should ban gambling on sports, which has become a driver of the otherwise declining television ratings for the leagues.
Congress should also examine how professional baseball has filled nearly 30% of its rosters with immigrants, while the percentage of black players has dropped from 19% in 1981 to only 8% last year. High-paying positions that should be filled by Americans are instead given to immigrants having less inspirational value to American youth.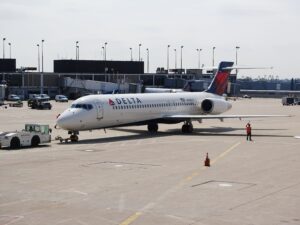 MLB has built a "development center" in China as part of the globalist push by pro sports, so why doesn't it move its All-Star game there? The game is ironically being moved to Denver, which is only 9.2% black compared with Atlanta which is 51% black.
No one would be surprised if the Denver stadium has many empty seats when the game is played there. Fan attendance at baseball and football games has long been declining, and stadiums were nearly empty all last year.
The successful Atlanta Braves team, which has repeatedly won its division, properly repudiated the pullout of the All-Star game from Georgia. "It just stinks," declared veteran Atlanta pitcher Charlie Morton in criticism of the pullout.
The Braves organization said it was "deeply disappointed" by the pullout decision, and that "businesses, employees, and fans in Georgia are the victims of this decision." Its manager further criticized the decision.
"It is finally time for Republicans and Conservatives to fight back – we have more people than they do – by far!" declared Trump. "Boycott Major League Baseball, Coca-Cola, Delta Airlines, JPMorganChase, ViacomCBS, Citigroup, Cisco, UPS, and Merck. Don't go back to their products."
No politician before has ever had the guts of Trump in taking on corporations and crony capitalism. Not even Teddy Roosevelt stood up against so many powerful, entrenched corporate interests as Trump does.
Baseball does not belong to a few overpaid executives, and its Commissioner Manfred should resign. The sport belongs to fans, volunteers, and the grassroots, and we should take the sport back without the liberal agenda and gambling and abuse of immigration, before its executives completely ruin it.
John and Andy Schlafly are sons of Phyllis Schlafly (1924-2016) and lead the continuing Phyllis Schlafly Eagles organizations with writing and policy work.