Last week Georgia Superior Court Judge Brian Amero ordered a forensic audit by independent experts of 147,000 mail-in ballots counted in Fulton County, which includes Atlanta. Shockingly few mail-in ballots were rejected for invalid signatures, and the overwhelming majority of those ballots were counted in favor of Biden to provide him the margin of his reported victory in Georgia, as in other swing states.
Trump's team sought to monitor the initial post-election sham review of ballots in Fulton County, which is Georgia's most populous county. But Anti-Trump officials there blocked access by Trump's Chief of Staff Mark Meadows to the process, despite how review of illegitimate mail-in ballots should have been open to the public as Democrats ran up an implausible 244,000-vote overall county margin for Biden there.
Election integrity is a matter of enormous public concern, not to be swept under the rug after the media declares one side to have won. This issue confounds the Never-Trumpers, who fail to support these election audits that include Republican review of many Arizona Maricopa County ballots.
This election audit in Georgia and also in Arizona could prove that the election was indeed stolen from Trump and his more than 74 million supporters. A recent Reuters/Ipsos poll demonstrates that most Republicans still view Donald Trump as the true winner of the presidential election.
This independent poll confirms that 61% of Republicans feel that the last election was stolen, and the same number do not think that mail-in ballots are counted accurately. Nearly 60% of Republicans view the January 6th protests at the Capitol as mostly peaceful, and by law-abiding Americans.
With no changes by the Pennsylvania Republican legislature to reduce mail-in voting fraud there, last week Democrats won a state senate election in northeastern Pennsylvania by a landslide. Perhaps Republicans would have picked up that seat if Pennsylvania had restored election integrity.
The Republican-controlled Texas legislature is wrapping up its biennial session now without enacting true election reform. The declining margins of victory for Republicans in Texas is reportedly due to changes in demographics, but the bigger reason is the increased exploitation of early and mail-in voting by the Democrat machine in the Lone Star state.
In contrast with Florida Governor Ron DeSantis, Texas Governor Greg Abbott failed to do anything to stop allowing hundreds of thousands of unverified mail-in ballots. A milquetoast bill promoted as election reform languishes in Austin, despite how Republicans have commanding majorities in both legislative chambers plus the governor's mansion.
Failure to enact election integrity legislation signals inaction on other high-profile issues, too. While several Republican states have rightly protected minors against irreversible transgender operations, Texas Gov. Abbott and statehouse Republican officials have gone AWOL.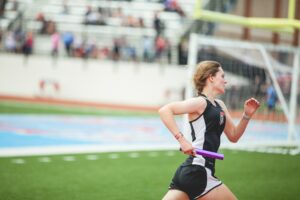 Perhaps the phony threats by the NCAA to punish states which protect girls' sports against transgendered biological males intimidated Republican leadership in Texas, but not in other states. It was mere bluster, as the NCAA subsequently announced it will hold its women's college softball regional tournaments in Alabama, Arkansas, and Tennessee, all of which have enacted legislation banning transgender athletes from intercollegiate women's sports.
The fastest high school female runner in Connecticut, Chelsea Mitchell, properly complains about losing four state championship titles, two all-New England titles, and additional award podium spots to males who competed against her as transgenders. A federal judge dismissed a lawsuit by her and others once the transgenders graduated, by saying the lawsuit was then moot.
Republicans should not place all their hopes on courts doing the right thing on the transgender or the election integrity issues. Because the Georgia legislature did nothing for election integrity last year even after the widely reported shenanigans in the November election, Democrats then stuffed the ballot box with unverified mail-in ballots to take two Republican U.S. Senate seats and thereby gain control of that chamber.
The Pelosi-controlled House passed H.R. 1 to make unverified mail-in ballots a permanent fixture in American elections, which would render it impossible for Republicans to win another presidential election. The sham elections in Georgia removed the Republican majority in the U.S. Senate to block this and other bad bills, and only the filibuster can preserve in Congress what is left of election integrity.
State legislatures which have not yet adjourned for the year, as in Pennsylvania, should not defer to their liberal court system. Instead they should enact legislation requiring the type of audit that the Georgia judge recently ordered.
Pennsylvania loses an electoral college vote with the census and faces the prospect of no longer being a battleground state if it fails to reinstate its pre-2020 limits on absentee and mail-in voting. Without verification of signatures on mail-in ballots, Democrats can toss in many hundreds of thousands of bogus votes, and future Republican presidential candidates should campaign in the swing states having election integrity.
John and Andy Schlafly are sons of Phyllis Schlafly (1924-2016) and lead the continuing Phyllis Schlafly Eagles organizations with writing and policy work.