On Phyllis Schlafly's 94th Birthday No Less!
St. Louis, MO: Today, the Phyllis Schlafly Eagles congratulate Kris Kobach for his official victory in the Kansas Gubernatorial Primary. They released the following statement from Andy Schlafly:
"Kris Kobach was a favorite of Phyllis Schlafly. He spoke often at her events, and they met one last time at the Cleveland airport returning from the Republican National Convention in July 2016: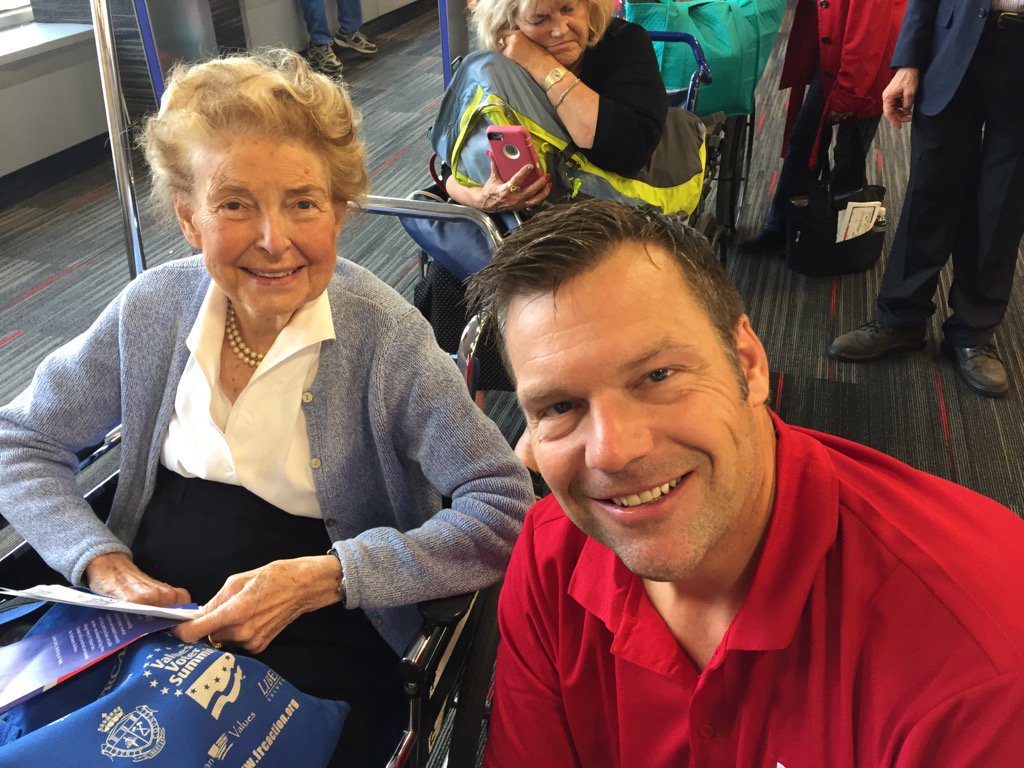 "In one of the biggest political upsets of the decade, conservative Kris Kobach just defeated the incumbent Republican governor of Kansas by a mere one-tenth of one percent of the votes cast: only 345 votes. The incumbent conceded to Kris last night, which the lamestream media is downplaying because Kris has won.
"This is another miraculous victory for Phyllis, on the eve of her birthday. It is the best birthday present she would have wanted. She would have been 94 today.
"Kris Kobach was an early champion of stopping illegal immigration and voter fraud. Phyllis personally attended one of Kris's legal arguments in court in defense of a law he helped write for a Missouri town to keep illegal aliens out. She told me that Kris was masterful during that court hearing, and he won that case. But Kris is unfairly vilified by the liberal media because he is a young, principled conservative with unlimited potential.
"Happy Birthday, Mother!"
###