For Immediate Release: December 7, 2020
Contact: Ryan Hite, Communications Director
Phyllis Schlafly Eagles Joins Stop the Steal, Jericho March & Hundreds of Thousands
Washington, D.C.: Phyllis Schlafly Eagles is proud to partner with Jericho March and Stop the Steal to pray, rally, and protest on the National Mall this Saturday, December 12th.
"The fraud and corruption beyond this election go far behind political and religious divisions," said Ed Martin, president of Phyllis Schlafly Eagles and Eagle Forum Education & Legal Defense Fund. "Our liberty, our rights, and our society itself are at stake. We cannot allow power hungry elites to subvert the will of We the People and so blatantly deny the transparency our republic needs. If this theft of the 2020 election is allowed, there will no longer be a free society in which political opponents can debate the issues. There won't be civic recourse for citizens to seek fair judgement from their leaders. Allowance of this would turn our very nation into something none of us recognize.
"We must stop the steal, and it can't be done through action alone. There are forces far greater at play, and we must seek the help of the Almighty in this fight for liberty. This is why we are proud to partner with Stop the Steal and the Jericho March to send hundreds of thousands to D.C. this week not only to march and protest but TO PRAY in the center of our federal government."
Stop the Steal and Jericho March have been hosting weekly rallies at noon at every state capitol. Jericho March has even met daily to circle the perimeter of state capitols for prayer. This Saturday, December 12th, a national event will take place on the Mall in D.C. called "Let the Church ROAR!" Corresponding prayer marches will take place around the U.S. Capitol, the U.S. Supreme Court, and the state capitols of each contested state in this election.
Visit JerichoMarch.org and StoptheSteal.us for complete details and registration.
For more resources on this stolen election, visit PhyllisSchlafly.com/StopTheSteal.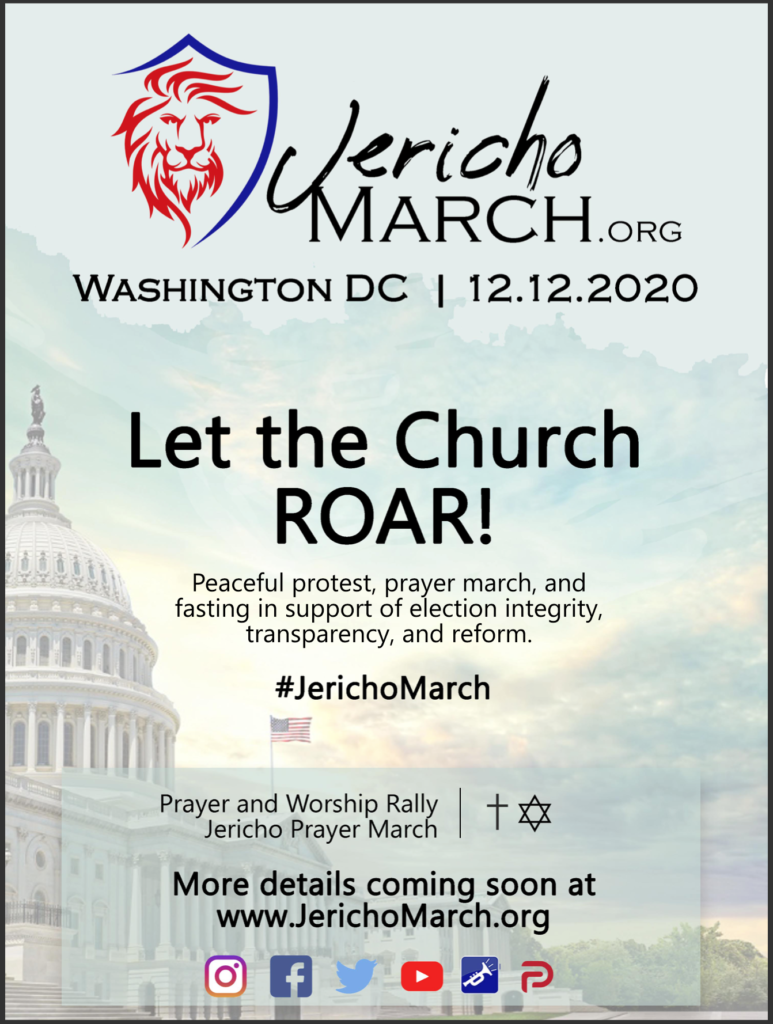 ###