The push for amnesty for illegal aliens is turbo-charged by stories of separating children from their parents at the southern border. But children are often separated from lawbreaking and even law-abiding American parents, so it is curious why liberals and others would suddenly complain when it happens to families for entering our country illegally.
The critics do not provide an alternative to the current policy of prosecuting lawbreaking parents while allowing their children to go free. If we had a border wall then these separations would not occur, and the critics of Trump are the same ones who oppose building the wall.
Migrant camps would be needed to keep all families together as the adults break the law, but that is a European rather than American approach. There is no crisis in Central America that justifies establishing refugee camps.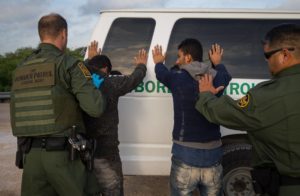 "The United States will not be a migrant camp," President Trump rightly declared, "and it will not be a refugee holding facility. Not on my watch!"
The timing is suspicious for this media campaign about separating children from parents. The push for an amnesty bill has reached a fever pitch for more than a million young adults, who are euphemistically called "childhood arrivals" because many of them crossed our border illegally while teenagers.
These migrants would be wonderful assets to their homelands, and they have more relatives back home than they do here. Amnesty would merely encourage more illegality.
Lobbying groups in D.C. are turning up the heat on congressmen to get this amnesty passed, and the Koch donor network is demanding it, too. Big business benefits from cheap labor that crosses our borders illegally.
In 1986, President Ronald Reagan signed into law an immigration bill that granted amnesty and created the incentive for more illegal immigration. Far from solving a problem, amnesty induces more illegal immigration in the future.
So to attract support by President Trump, the House compromise amnesty bill includes funding for construction of a border wall, to the tune of $25 billion. But funding a wall is not the same as building a wall, because liberals run to court to block almost anything Trump does related to immigration.
Before the ink could dry on such a bill, even if it were to pass the Senate intact, liberals would file suit to obtain injunctions blocking the construction of a wall. They would sue in predictably activist jurisdictions such as San Francisco and Hawaii, where multiple injunctions have already been issued to block Trump's executive orders that were tame compared with a border wall.
Congress has the authority to "strip" federal courts of jurisdiction, and has done so on many occasions. As explained by Phyllis Schlafly in her classic book The Supremacists, former Senate Majority Leader Tom Daschle (D-SD) once stripped jurisdiction from federal courts over challenges to brush-clearing in his home state.
Before President Trump signs any immigration bill, he should insist on broad jurisdiction-stripping provisions. He should demand that Congress remove federal court jurisdiction over his executive orders limiting travel from hostile nations.
If federal courts are allowed to wield authority over the construction of a border wall, then multiple Clinton – or Obama – appointed judges will surely enjoin its construction. Reasons given will range from environmentalism to non-existent prejudice.
Fortunately, few Republicans who want to win reelection will cross President Trump at this point, after his tweet sunk Never-Trumper Congressman Mark Sanford in his own primary in South Carolina. There is no reason for Trump to cave into Republicans now.
Lame duck House Speaker Paul Ryan, who is stepping down at the age of only 48 rather than fight for the Trump agenda, has long given priority to the agenda of the pro-illegal immigration lobbyists. But their goals are not those of the American people who elected Trump as president.
Trump announced that he is not going to sign the Ryan immigration bill, which reminds us again why Trump is so much better than any other Republican presidential candidate. Anyone else would have capitulated to the pressure from Republican mega-donors and lobbyists to sign into law an amnesty bill.
No immigration bill can become law without the support of President Trump, and House leaders are meeting with him on Tuesday to seek a compromise. Trump should adhere to non-negotiable requirements, including a withdrawal of jurisdiction from the courts over issues relating to construction of the wall, Trump's executive orders concerning immigration, and challenges to deportation.
Congressmen Steve King and Lou Barletta, who is a candidate for Senate in Pennsylvania against a Democrat incumbent, have long been leaders on this all-important issue of immigration. Both oppose the compromise bill being pushed on President Trump, and no bill on immigration is worth supporting unless Representatives King and Barletta are on board.
John and Andy Schlafly are sons of Phyllis Schlafly (1924-2016) and lead the continuing Phyllis Schlafly Eagles organizations with writing and policy work.