Only Donald Trump wins as comfortably in the hushed halls of the Supreme Court as on the backroads of rural America.  In the past few days he has triumphed before the Supreme Court, leads by 51-36% in the latest approval poll concerning his economic policies, and prevailed by an incalculable margin in rebuking the restaurant that denied service to his press secretary and her family.
The new liberal strategy of harassing Trump officials is backfiring.  As leading Democrats themselves recognize in unsuccessfully trying to rein in their extremists, it is un-American to harass fellow Americans for their political views.
Time magazine piled on with a ridiculous cover image of President Trump standing stubbornly over a little girl detained at our border.  Yanela Hernandez was supposed to become the poster child for family separation, after she was brought here by her mother all the way from Honduras.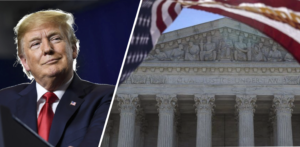 But it is the facts that are stubbornly ruining the anti-Trump script.  The girl was actually separated from her father not by Trump but by her own mother, who took the child on a dangerous 3-week, 1,600-mile journey without telling her husband (the girl's father).
Nearly 20 years ago, a 5-year-old Cuban boy named Elián González was brought by his mother on a dangerous journey to Florida.  Elián was placed with relatives in the United States after his mother drowned, but as demanded by liberals President Clinton ordered him seized him at gunpoint and returned to communist Cuba.
Illegal immigration is what is separating families, not President Trump.  Yanela Hernandez would not have been taken away from her family in Honduras if we had sensible border control.
Referring to the deprivation of his little girl from him by her mother in Honduras, her father Denis Hernandez told a reporter for the Daily Mail, "I do think it was irresponsible of her to take the baby with her, because we don't know what could happen."
"I thank God I have a good job here," Mr. Hernandez said from his home in Puerto Cortes, Honduras, which is safe enough to be a tourist destination. "I would never risk my life making that journey."
This case illustrates someone who should be sent back immediately without a judicial hearing, since the Hernandez family has no basis for claiming asylum or refugee status.  When Trump suggested that, a news story in the New York Times declared it was "an escalation of his attacks on the judicial system."
That criticism of Trump is ironic in light of the Supreme Court ruling in his favor on Tuesday, for which he patiently waited for nearly a year-and-a-half.  Far from attacking the judicial system, Trump fully complied with all its procedures and prevailed as the Court upheld his so-called travel ban from nations hostile to us.
Let's hope lower federal courts take a cue from the Supreme Court in deferring to presidential authority in these matters.  But earlier this month, on June 6, a federal judge in San Diego allowed the ACLU to continue its lawsuit against the "practice" of separating migrant children from their parents without showing that the parent is unfit or presents a danger to the child.
On June 5, United Nations High Commissioner for Human Rights issued a statement blasting the Trump administration's policy of zero tolerance for illegal entry into the United States.  The statement ordered our government to "stop criminalizing what should at most be an administrative offense — that of irregular entry or stay in the U.S."
The UN human rights office accused our government of committing "a serious violation of the rights of the child," before complaining that the U.S. "is the only country in the world not to have ratified the UN Convention on the Rights of the Child."  That's right, the United States has wisely refused to ratify that dangerous UN treaty since the 1990s, when it was pushed by then-First Lady Hillary Clinton and properly opposed by Phyllis Schlafly.
On June 19, the U.S. formally withdrew from a related UN agency called the Human Rights Council, whose members include some of the most repressive regimes on earth.  Ambassador Nikki Haley denounced the council, which has passed more resolutions to condemn Israel specifically than to condemn Syria, Iran and North Korea combined, as "an organization that is unworthy of its name."
Another globalist tribunal which our country declined to join more than 15 years ago is the international criminal court, located in the Hague.  That did not stop a clueless protester from shouting at Kirstjen Nielsen, Trump's Secretary of Homeland Security, that "you belong in the Hague!"
As hard as the Left smears and harasses him and his team, the stronger Trump becomes.  "Triumphant Trump" emerges victorious again and again.
John and Andy Schlafly are sons of Phyllis Schlafly (1924-2016) and lead the continuing Phyllis Schlafly Eagles organizations with writing and policy work.