From the day he announced for president, Donald Trump spoke of how the United States was losing ground to other countries, especially China, in international trade.  We're not winning anymore, Trump complained throughout the campaign, and he promised to change that.
Trump has fulfilled every expectation on the trade issue.  Unlike most politicians who promise one thing and then do another after the election, Trump has followed through on his campaign promises on trade.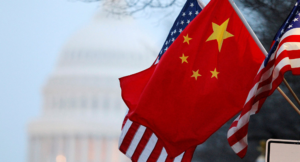 As Trump tweeted last Saturday:  "The United States hasn't had a Trade Surplus with China in 40 years.  They must end unfair trade, take down barriers and charge only Reciprocal Tariffs."
"The U.S. is losing $500 Billion a year, and has been losing Billions of Dollars for decades," Trump added.  "Cannot continue!"\
Trump tweeted again on Monday, April 9:  "When a car is sent to the United States from China, there is a Tariff to be paid of 2 1/2%.  When a car is sent to China from the United States, there is a Tariff to be paid of 25%."
"Does that sound like free or fair trade.  No, it sounds like STUPID TRADE – going on for years!"
With his new actions on trade with China, President Trump has brought the era of bipartisan pusillanimity to an end.  Trade wars always exist, and now our side is finally going to fight back.
For at least two decades, Republicans and Democrats alike have known about and tolerated China's systematic violations of trading rules that the United States observes.  Our leaders have refused to do anything about China's lawless behavior, primarily because the Wall Street donors who finance both parties have fomented fears about a trade war.
The China problem emerged in the year 2000, when Republican Congressional leaders (including the future Speaker of the House, Paul Ryan, and the future Senate Majority Leader Mitch McConnell) conspired with President Bill Clinton to give China preferred access to the American consumer market.  Normal trading privileges paved the way for China's entry into the World Trade Organization in 2001, despite its failure to meet basic requirements for membership.
Phyllis Schlafly strongly opposed the trade giveaway to China, which never would have attained the 2/3rds vote required by the Treaty Clause in the Constitution in order to pass.  So instead this handout to China was passed as a non-treaty.
One-fourth of House Republicans voted against their leadership in 2000, while two-thirds of House Democrats voted against their president. The naysayers were proved right as China continued to flout the rules for the next 18 years and still shows no sign of real reform.
In its early years of access to the American market, China profited by paying extremely low wages to people making ultra-cheap products.  Now China is rapidly moving up the food chain to sell us high quality products containing innovative technology that was created and developed in the United States.
How did the Chinese get their hands on the latest American high tech know-how?  First, by stealing it:  China's commercial espionage is estimated to cost U.S. companies over $20 billion a year, with a cumulative total of $600 billion over 20 years.
China also forces American companies to share their technology as the price of access to the Chinese market.  Such requirements are supposedly prohibited by the WTO, but with no one stopping them, the Chinese trade surplus in goods reached a new all-time record of $375 billion last year.
"We have a tremendous intellectual property theft situation going on," the president said on March 22 as he signed an order that could eventually impose tariffs on hundreds of Chinese products.  As Peter Navarro, director of the White House National Trade Council, explained, "What the United States is doing is strategically defending itself from China's economic aggression."
Even long-time free-traders are starting to see the light.  Last Sunday Lawrence Kudlow admitted that "the whole world knows China has been violating trade laws for many years" and "President Trump is the guy calling them on it, and he's right."
"This is a problem caused by China, not a problem caused by President Trump.  I would go so far as to say Trump is there to fix the problem," Kudlow explains.
"His argument, and it's a good one" is this:  "You can't have free trade unless China brings down its barriers, opens up its markets, and stops this technology steal that they're doing," Kudlow adds.
Peter Navarro properly observed last Sunday, "What we want from China is very clear.  We want fair and reciprocal trade."
"We want them to stop stealing our stuff.  We want them to guard intellectual property, not take it from us," Navarro concluded.
China has far more to lose in a trade war than the United States does.  Indeed, our job market would improve if tariffs reduced our massive trade imbalance with China, and Trump is right to take strong steps toward that goal.
John and Andy Schlafly are sons of Phyllis Schlafly (1924-2016) whose 27th book, The Conservative Case for Trump, was published posthumously in 2016.