Social media had a field day with a photo which appears to show that the Trump administration is keeping migrant children penned in cages along the U.S.-Mexican border. A photo that went viral shows two Hispanic children sleeping on a concrete floor behind a chain-link fence.
A news report that confirms what you already believe to be true is said to be "too good to check." In this case, the photo seemed to corroborate what the media falsely believe about our President.
"Look at these pictures," tweeted former President Obama's chief speechwriter, Jon Favreau. "This is happening right now, and the only debate that matters is how we force our government to get these kids back to their families as fast as humanly possible."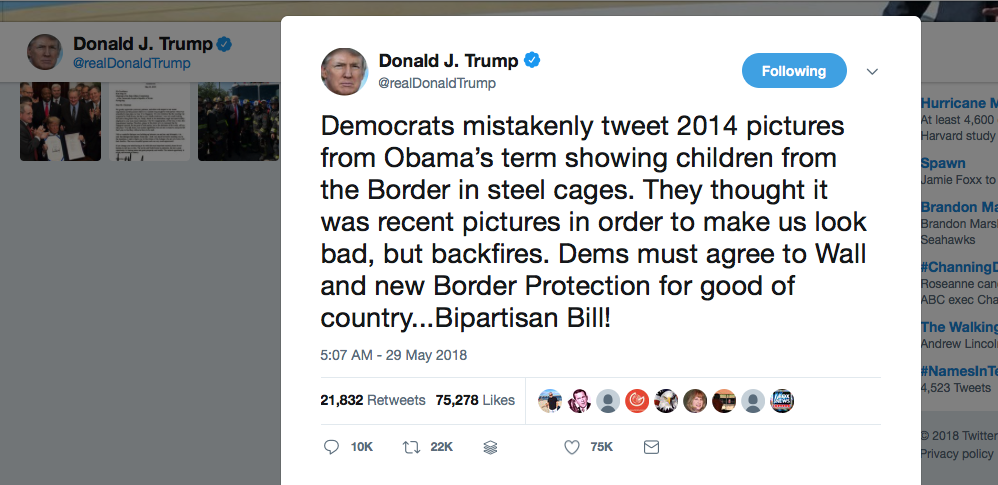 The picture was retweeted by other anti-Trump personalities including Shaun King, an activist who supported Black Lives Matter. "Take a look at these pictures," tweeted Linda Sarsour, the radical Muslim activist who co-founded the Women's March.
Donald Trump, as usual, had the last laugh on his critics. The photo was actually taken in June 2014, when Barack Obama was President.
The picture was one of 10 photos published by a Phoenix newspaper, the Arizona Republic, under the headline: "Immigrant children flood detention center."
The children, about 900 in all, had crossed the border illegally in Texas without their parents. They were shipped to Nogales, Arizona where the U.S. government set up a makeshift processing center bigger than a football field.
"The children, mostly of high-school and junior-high-school age, are housed behind 18-foot-high chain-link fences topped with razor wire," said the reporter who was allowed to visit the facility. "They pass the day sitting on benches or lying side by side on tiny blue mattresses pressed up against each other on nearly every square inch of the floor in the fenced areas."
"Democrats mistakenly tweet 2014 pictures from Obama's term showing children from the Border in steel cages," President Trump tweeted on the day after Memorial Day. "They thought it was recent pictures in order to make us look bad, but backfires."
"Dems must agree to Wall and new Border Protection for good of country." Once again, Donald Trump emerges the winner while his critics, like Linda Sarsour, debase themselves.
"Our immigration system was a disaster long before Trump came along," Sarsour insisted after her gaffe was exposed. "Now it will become increasingly worse under this White Supremacist Administration."
It's all very frustrating to George Lakoff, a Professor Emeritus of Cognitive Science and Linguistics at the University of California Berkeley. Lakoff has made a second career trying to teach Democrats how to communicate the progressive agenda to ordinary Americans.
"When you repeat Trump, you help Trump," Professor Lakoff wrote in an exasperated post to his friends on the left. "You do this by spreading his message wide and far.
"Think about it: every time Trump issues a mean tweet or utters a shocking statement, millions of people begin to obsess over his words.
"Reporters make it the top headline. Cable TV panels talk about it for hours. Horrified Democrats and progressives share the stories online, making sure to repeat the nastiest statements in order to refute them.
"Nobody knows this better than Trump. Trump, as a media master, knows how to frame a debate" wrote the distinguished professor, who published a whole book on how to frame the debate.
"When the news media and Democrats repeat Trump's frames, they are strengthening those frames by ensuring that tens of millions of Americans hear them repeated over and over again."
The 900 children who were pictured in Nogales were among the tens of thousands of unaccompanied alien children (UACs) who flooded across the southern border in 2014. Under the Obama administration, most UACs were placed with relatives living illegally in the United States, instead of being returned to their parents in Honduras or Guatemala, as they should have been.
President Trump is determined to change the system that allows UACs from countries other than Mexico (OTM) to remain here indefinitely. When the number of UACs spiked this spring, Trump and Attorney General Jeff Sessions took several steps to stem the flow.
Meanwhile, pro-immigration Republicans are pressuring Trump to cave by extending the Deferred Action for Childhood Arrivals (DACA) without building a border wall. A pro-immigration group funded in part by the Koch brothers, LIBRE, is running ads urging Congress to pass "a permanent solution for Dreamers."
In the pro-amnesty Koch orbit is Colorado Senator Cory Gardner, who complained about Attorney General Sessions considering enforcement of federal laws against marijuana sales. Legalizing marijuana is another hobby horse of the Koch network of donors, to the detriment of average Americans.
President Trump is welcome relief from politicians who care more about donors than voters. Trump should continue to be a "choice, not an echo" on immigration, and stand firm for a border wall.
John and Andy Schlafly are sons of Phyllis Schlafly (1924-2016) and lead the continuing Phyllis Schlafly Eagles organizations with writing and policy work.