If money talks, the loudest noise in America would be an article published last Thursday entitled "Congress must act on the dreamers." Legislation to protect the 690,000 illegal aliens known as Dreamers, the article insists, "is a political, economic and moral imperative."
A movement is afoot either to slip this into a final 2017 bill when few are watching, or to make it a litmus test for candidates seeking to raise campaign cash for races next year.
"Delay is not an option," the authors wrote, ignoring the backlog of unfinished business in Washington. "Congress must act before the end of the year."
The op-ed was signed by Charles Koch, who shares a $97 billion fortune with his brother David. The Koch brothers are aligned with the "never Trump" Republicans who have undermined much of President Trump's agenda.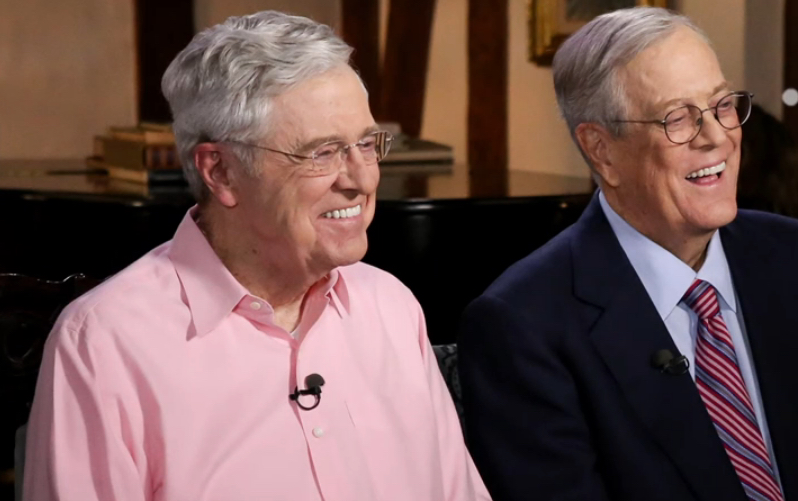 Charles Koch is a businessman, and he likes to get his money's-worth when he spends it. After striking out the past two years with their political agenda, the Koch network of mega-donors could be making support of DACA a litmus test for Republican primary candidates in the 2018 election cycle.
Republican candidates would be wise to decline, just as candidate Trump declined support by the Koch network last year, and won anyway on a platform of opposing illegal immigration.
Koch was joined by co-author Tim Cook, who succeeded the late Steve Jobs as CEO of Apple. Cook supports many liberal causes, and was criticized by candidate Trump for how Apple would not cooperate in unlocking the iPhone of a terrorist who went on the killing rampage in San Bernardino about two years ago.
Cook's corporate practices at Apple hardly commend him to lecture about what is best for America. Apple stashes hundreds of billions of dollars – that's billions, not millions – of its profits overseas in order to avoid paying taxes in the United States, and thereby avoid investing it in American workers here.
Moreover, Apple's claim of employing a few hundred Dreamers – far less than 1% of its workforce – in mostly low-skill jobs would not ordinarily attract the attention of a CEO. But Cook and Koch are not just in favor of entitlements for hundreds of thousands of Dreamers, but also for many millions of other illegal aliens.
Cook and Koch declare in supporting DACA, "If ever there were an occasion to come together to help people improve their lives, this is it." But where is the compassion for helping Americans improve their lives, which ending benefits for illegal aliens would do?
Senator Jeff Flake was a frequent attendee at the Koch conferences of donors, and he has remained anti-Trump to this day. All that got him was a disapproval rating so high in his home state of Arizona that he resigned at a young age rather than even try for reelection.
Now Senator Flake is leading a group of other anti-Trump senators, including Lindsey Graham (R-SC), to try to forge a deal with Democrats to protect these illegal aliens.
The day after the Koch-Cook article appeared in the Washington Post, the Congressional Budget Office (CBO) issued a report throwing cold water on the bum's rush to protect the Dreamers. The CBO estimates that legalizing Dreamers would cost taxpayers $25.9 billion over the next decade.
The CBO explains why the costs of Dreamers would far exceed any benefit that Americans would ever see. Once legalized, the Dreamers would become eligible for the full array of benefits for the working poor including Obamacare, Medicaid, food stamps, and much more.
Dreamers would consume more benefits and pay less taxes than the average American because their skills and education are so much lower. Even though most Dreamers are now in their twenties or thirties, for example, more than half of them never finished high school.
Part of the skills gap is because Dreamers were never required to demonstrate English fluency, and many are functionally illiterate. Of those who signed up for DACA, many required the help of a translator to fill out the form.
The CBO estimates the cost of all those federal benefits at $27 billion over 10 years, while only $1 billion of new tax revenue would be generated from Dreamers moving "out of the shadows" to regular employment. Combining those two amounts produces a net cost of $26 billion.
Even in Washington, where the federal budget is measured in trillions, $26 billion is real money. And that number almost surely understates the true cost by a wide margin.
Democrats are acutely aware of the value of $26 billion, whether or not they are willing to admit it where the Dreamers are concerned. Trump's border wall, which Democrats consider exorbitantly expensive, would cost only $21.6 billion according to a study conducted by the Department of Homeland Security in February of this year.
Rather than spending $26 billion on keeping illegal immigrants here, perhaps we should be spending that money to build the wall and keep illegals out.
John and Andy Schlafly are sons of Phyllis Schlafly (1924-2016) whose 27th book, The Conservative Case for Trump, was published posthumously last year.