For Immediate Release: September 5, 2019
Contact: Ryan Hite, Communications Director
St. Louis, MO:  Three years ago today, Phyllis Schlafly left behind the earth and joined her Creator. For those of us still here, it was a time of sadness as we missed the incredible mother, grandmother, friend, and leader that had inspired so much good in America.
"We are still amazed every day at the long shadow Phyllis Schlafly cast on U.S. politics! From economic and sovereignty issues to life and marriage policy, Phyllis Schlafly was — nearly without exception — always right," said Ed Martin, president of Phyllis Schlafly Eagles. "She was right on the issues and right on how to campaign for the solutions she wanted. She inspired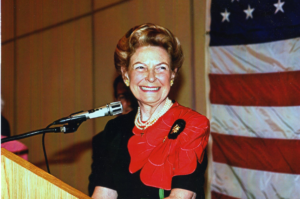 generations to support the values that made our nation great. Her Eagles are proud to carry on her legacy still and fight for American liberties and values — for the Constitution and the rule of law.
"As the continuing Phyllis Schlafly Eagles organizations prepare for the 48th annual Eagle Council next week, we are inspired by our founder, who never stopped working even into the final hours of her life. I and our staff and the many hundreds of volunteer leaders and thousands of grassroots activists across the nation are today especially grateful for Phyllis Schlafly's example. She was always ready with the facts, a sharp wit, and a disarming smile. She never backed down from a fight, and never failed to fight with great hope and joy in her work! She truly was the iron lady of American conservatism.
Martin concluded: "Join me on this anniversary of her passing in saying a prayer of thanks for Phyllis's fearless, tireless, selfless life well-lived. We pray that God will raise more leaders like her to ensure this American experiment continues to be a beacon of hope and liberty throughout the world."
###