Gentlemen may cry peace, peace, but there is no peace: even cemeteries are not safe from liberal mobs bent on the destruction of history. In Los Angeles, an online petition forced the Hollywood Forever cemetery to remove a 92-year-old hunk of granite that marks – "lest we forget" – the nearby graves of 37 Confederate soldiers.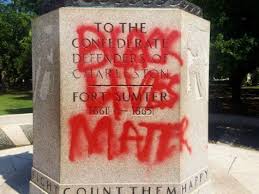 In Madison, Wisconsin, the leftwing mayor removed a two-foot plaque marking the graves of 140 Confederate soldiers who died in a Union prison at Camp Randall after surrendering in battle. In Boston, where over 600 Confederates were held at Fort Warren, a granite slab bearing the names of 13 who died in prison was boarded up so their names cannot be seen.
History teaches what happens when a revolution gets out of hand, and it's not pretty. When law and order are overthrown, the mob rules.
When the French Revolution reached its peak of mob violence in 1793, revolutionaries were not satisfied with slicing off the heads of their deposed rulers. They also invaded the church of St. Denis, where French kings and queens had been buried under for 1,000 years. The mob scattered remains of more than 100 tombs so the royal bones could never again be identified.
In Phyllis Schlafly's hometown of Alton, Illinois, two Civil War-related monuments have stood for more than a century at opposite ends of town. On the east side, a flamboyant 110-foot column,, honors Rev. Elijah P. Lovejoy, the anti-slavery newspaper publisher who died defending his printing press from a mob in 1837. On the western edge of town, a simple granite obelisk marks the resting place of 1,354 Confederate soldiers who died as prisoners of war in Alton's federal prison.
For as long as civilization has existed, the end of life on earth has been a time to remember the dead and to reflect on what their lives meant to us who survive. It's time for the grave robbers and defilers to stand down, or if they will not, to be put down by the law.