FOR IMMEDIATE RELEASE: NOVEMBER 13, 2020
CONTACT: RYAN HITE, COMMUNICATIONS DIRECTOR
Saturday, November 14 | Freedom Plaza | 12:00 noon ET
Washington, D.C.: Join Phyllis Schlafly Eagles President Ed Martin, the coordinators of Stop the Steal, and thousands of #MAGA Americans this Saturday, November 14, 2020 at 12:00 noon at Freedom Plaza in Washington, D.C.
Mr. Martin said, "We are calling on the federal government and our states to ensure the November 3 election results are honest and transparent. We the People voted and our votes should be accurately counted. Ample proof now exists to demand an audit in the contested states."
Those who cannot attend this march are encouraged to take part by lighting up the Capitol Switchboard at (202) 224-3121 and demanding that Republican leaders be out front in supporting the president and fighting for the integrity of our election!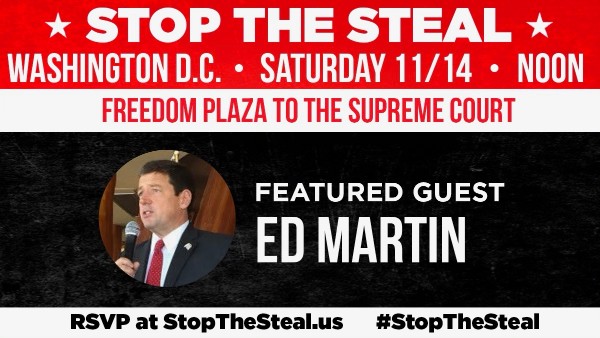 RSVP at StoptheSteal.us. 
###