School Reopening Still a Merry-Go-Round
Like a dog chasing its tail, the public school establishment in many U.S. districts continues to run in circles trying to determine when and if schools can reopen. They insist on "following the science," but for months the science has repeatedly shown that schools are not hotbeds for the transmission of COVID- 19. A study published in January by the American Academy of Pediatrics found little to no COVID-19 transmission in schools (see Education Reporter email, January 2021), and a newly released pilot study conducted in December at 57 St. Louis County and Greene County (Springfield) schools in Missouri showed similar results. Two private schools in St. Louis County also participated in that study.
Nonetheless, the Centers for Disease Control (CDC) adjusted its guidance in February for the "safe reopening" of schools, making it more stringent. This was done after consultation with "stakeholders," among them the teachers unions, which have been the most vocal group lobbying for delay in the reopening of public schools. Two teachers union leaders were allegedly part of the panel that developed the new guidance.
A transcript of the CDC's Feb. 12 virtual press briefing to announce the updated guidance disclosed that a series of "sessions" conducted with "teachers and school staff, parents, and students" proved "so informative that direct changes to the guidance were made as a result of them." Although the CDC insisted it had "thoroughly reviewed the science," lobbying groups evidently carried the day.
CDC Director Dr. Rochelle Walensky duly recognized the importance of children returning to in-person learning, and then repeated the familiar mantra that to safely open schools there must be "as little disease as possible" in the community. Yet the very science she claims to rely upon shows little correlation between COVID-19 disease transmission in schools and the level of disease present in a community. A March 12 op-ed in the Washington Examiner observed: "The science is overwhelming at this point. In-person schooling with rules about masks and precautions for distancing is perfectly safe….There's even evidence that children are safer from the coronavirus inside schools than they are outside of them."
Social Distancing: Six Feet or Three Feet?
On March 19, the CDC revised its social distancing guidance for schools from six feet to three feet. Director Walensky indicated it's "because six feet has been such a challenge there, science has leaned in and there are now emerging studies on the question between three feet and six feet." This change of tune is all very curious because recent reports have blown the whistle on the actual source of the six feet mantra—an eighteenth century German hygenicist named Carl Flügge, who arbitrarily determined six feet as a cautionary measure to prevent the spread of tuberculosis and other common pathogens of his day. Also surfacing is a social distancing study of nearly a year ago that appeared in the esteemed scientific journal, The Lancet, which found: "For the general public, evidence shows that physical distancing of more than 1 m [3.2 feet] is highly effective." 
During its press briefing, the CDC acknowledged that "in-person learning in schools has not been associated with a substantial, community transmission." Walensky was careful to note that the CDC is not mandating that schools reopen, nor is it mandating that those schools which are open should close. 
Also speaking at the briefing was U.S. Department of Education's Senior Advisor for Policy and Planning, Donna Harris-Aikens, who introduced the first volume of the department's "COVID-19 Handbook." She said: "We need to get kids back in the classroom, and to do that, schools and educators need help. They need guidance and they need resources. The Department of Education is committed to working with the CDC, school leaders, parents, and communities, to get students back in the classroom as quickly and safely as we can." And round and round they go.
CDC Guidance Causes Social Media Stir
Publication of the CDC transcript unleashed a fury on social media. Users took to Twitter, some in support of the CDC's new guidelines and many others who weren't fooled. One user commented: "If you wonder why so many parents are opting out of traditional public schools, look no further than this nonsense." Another wrote: "What's vexing here is 'stakeholders.' By definition, that's an organized, existing group with a clear agenda; the opposite of what science is supposed to seek." Yet another tweeted: "'Listen to the scientists' was a bogus line from the beginning. It's all political favoritism for the radical greedy teachers unions."
One tweet stated simply: "Public school teachers unions should be outlawed." Finally, this tweet: "I thought the CDC based their claims on science…seems it's more like opinions…Because we all know it's really not [about] following the science until the teachers union tells you it is."
Panic or Power Grab?
While teachers union leaders in big-city school districts such as Chicago, Los Angeles, and San Francisco have likened a return to the classroom with a death sentence, some parents and pundits considered it a power play to have their unreasonable demands met. In Chicago, for example, the unions used the pandemic as an excuse to reject every school reopening plan offered by the district, despite the more than $100 million the city spent on masks, protective equipment, and other safety measures. These tactics resulted in a parent protest in front of the Chicago Teachers Union headquarters in January. 
Not all teachers support their unions' efforts to keep schools shuttered. Some of those who do, however, betrayed their alleged fear of death by traveling, partying, and otherwise ignoring COVID-19 safety measures, as revealed by several widely publicized incidents in Florida and California. In Los Angeles, teachers openly warned their peers "not to flaunt their carefree lifestyle" that essentially disregarded the pandemic, even as their union continued to repeat the "schools as death traps" mantra.
It may be worth mentioning that the longtime superintendent of San Diego public schools, Cindy Marten, is President Joe Biden's pick for the deputy secretary of education. She is also a staunch supporter of keeping children out of the classroom. Marten rejected a timeline of January 13, 2021 for reopening San Diego schools on the pretext that the COVID-19 virus is "out of control in our communities."
Push to Reopen Schools Grows
Calls for schools across the country to reopen have intensified since the end of December. The March 12 Washington Examiner op-ed's headline demanded: "Open the schools now." Its author noted how the teachers unions, politicians, and "the sensationalist media" have terrorized parents to the point that "half believe it's unsafe to send their children back to school, despite a total lack of evidence for the alarmist view." He pointed out that "millions of teachers worldwide have been teaching in classrooms since summer 2020." Although the mainstream media tried to sensationalize COVID-19 teacher deaths last fall, a closer look showed that those teachers were infected outside the classroom.
Behind the push to reopen public schools is mounting evidence of the damage being done to students who've been kept at home for a year. Experts warn that children need human interaction outside their immediate families, with friends, classmates, teachers, coaches, and the like. 
On March 11, the U.S. House of Representatives' Subcommittee on Consumer Protection, of the Committee on Energy and Commerce, held a hearing titled "Kids Online During COVID: Child Safety in an Increasingly Digital Age," to hear testimony on the issue of schoolchildren spending even more time online due to virtual learning. While much attention was rightly paid to the online dangers children face from predators and Big Tech companies, the problems associated with virtual schooling such as excessive screen time and increased isolation, depression, and suicide were also explored. The hearing may well result in stricter online protections for children, but it's less clear what if anything can be done to alleviate the consequences of the lockdowns.
February 12, 2021 Transcript CDC Update on COVID-19; Washington Free Beacon, 1/25/21 and 1/26/21; The Blaze, 1-27-21; Washington Examiner, 1/28/21 and 3-12-21; House.gov/committee hearing-on-kids-online-during-covid; The Federalist, 3/11/21; Fox 2 News, St. Louis, Mo., 3-19-21; Tucker Carlson Tonight, March 15, 2021; The Lancet June 1, 2020
---
'Woke' Propaganda Destroying Innocence of Children
It seems to be everywhere at once in varying degrees; both public and private schools are destroying the innocence of children by indoctrinating them on sex-related topics, from LGBTQ lifestyles to "gender identity" to the use of "inclusive language." Educators seem more focused on which "pronouns" a child wants to use to refer to himself or others than to teaching the grammatical meaning and proper usage of pronouns. Some schools are going beyond the sex and gender-focused propaganda to subvert the usage of common words in American English.
An egregious example, albeit far from the only one, is the private Episcopal-affiliated Grace Church School in NoHo, Manhattan, which has issued a 12-page guide to acceptable woke terminology for students of all ages. The guide tells children not to use the terms "mom and dad," or "parents" and instead to refer to parents as "caregivers," "folks," or "grownups." Students may not wish each other "Merry Christmas" or even "Happy Holidays," nor can they ask about a classmate's religion or mention going on a vacation.
The guide covers a variety of topics that demand wokeness; e.g., gender, families, sexual orientation, race, religion, disabilities, and socioeconomics. Under the topic of gender, the use of the words "boys" and "girls," and "ladies" and "gentlemen" must be replaced with "people," "friends," or "folks." Also permitted are in-class designations such as "readers" or "mathematicians." The guide states: "While we recognize hateful language that promotes racism, misogyny, homophobia, and other forms of discrimination are already addressed in our school handbooks, we also recognize that we can do more than ban hateful language; we can use language to create welcoming and inclusive spaces." Most parents would likely wonder why the words "mom" and "dad" and "boys" and "girls" are now considered "no longer 'welcoming.'"
The guide also includes lists of terms that are off limits, such as references to "real" parents over "birth" parents. The term "sexual preference" is outlawed, as are "homosexual," "colorblind," "Caucasian," "colored people," and "diverse." For all this indoctrination, Grace Church School charges parents $57,000 per year in tuition. Some wealthy New York City parents are complaining about the hard left turn Grace and other elite institutions have taken and are removing their children from these schools.
DailyMail.com reported that journalist Megyn Kelly, whose children attended two different exclusive private schools in Manhattan, admitted to being "troubled" by what was going on. She said that when her son was in third grade, "they unleashed a three-week experimental trans-education program" that was hard for him to understand. She and her husband felt that the school was "trying to convince" the children. She also recounted that her kindergartner "was told to write a letter to the Cleveland Indians objecting to their mascot." Kelly said: "He's six. Can he learn how to spell Cleveland before we activate him?"
On the opposite side of the country, prestigious Los Angeles private schools Harvard-Westlake and Brentwood are teaching similarly destructive material. In addition to woke language, radical LGBTQ indoctrination, and critical race theory, students learn to despise capitalism, the system by which, presumably, their wealthy parents and schools have benefitted. As a result, many students are fearful of teachers, school administrators, and each other. One private school parent, born in a communist nation, told the City Journal: "I came to this country escaping the very same fear of retaliation that now my own child feels." Another said: "We need to feed our families. Oh, and pay $50,000 a year to have our children get indoctrinated." These parents are hesitant to speak out for fear of retribution from their school administrators, bosses, and communities.
Arguably, not all private schools, nor even all public schools, have adopted these extreme curricula, but like a cancer they continue to spread.
The 'Genderbread' Person
The LGBTQ child-targeted propaganda arsenal includes a takeoff on the timeless figure of the gingerbread man. The "Genderbread Person" looks similar to the traditional figure, but with stylized illustrations of a brain, a heart, and the male/female symbol strategically placed on the figure. Launched in 2015, the intent of this program is to teach students the meaning of the LGBTQ acronym and persuade them to embrace concepts they may otherwise not consider at all. A Genderbread Person handout called "Breaking Through the Binary" states in small print under the title: "Gender is one of those things everyone thinks they understand, but most people don't. Like inception. Gender isn't binary. It's not either/or. In many cases it's both/and. A bit of this, a dash of that. This tasty little guide is meant to be an appetizer for gender understanding. It's okay if you're hungry for more. In fact, that's the idea."
The entire handout is written in similar cutesy prose by "social justice comedian Sam Killermann," and includes continua pertaining to gender and sexuality. By using this guide, kids can presumably "plot where they identify along both continua to represent varying degrees of alignment with the traditional binary elements of each aspect of gender, resulting in infinite possibilities of 'gender' for a person." Huh?
Another handout is the "Genderbread Person LGBTQ Umbrella" which features a "Genderbread Person Guided Discussion." The sample lecture included in this discussion begs the question of how young teens or even older high school students can understand such a confusing jumble of misinformation. The opening paragraph reads: "We want to spend a little time discussing what those common LGBTQ letters mean and how they refer to different identities…. For example, there is no such thing as an 'LGBTQ' person. Lesbian, Gay, Bisexual, Transgender, and Queer are all different labels, representing different identities. Some individuals identify with a couple of those labels (e.g., gay and transgender), or even several (e.g., lesbian, gay, queer, and transgender)…" 
It continues: "LGB all represent sexual identities. And the T represents a gender identity, as well as an umbrella term for many gender identities. Queer means different things to different people, for some it describes sexuality, for others their gender, for others both.
"When we say 'sexual identities or sexual orientation' what we are talking about are the ways we categorize and define who we are attracted to, romantically, sexually, or otherwise. When we say 'gender identities' we are talking about the ways we categorize and define our genders. It is important to note that while we may hear mention of the LGBTQ community often, there are many times that we are not referring to gender identity or trans issues, but referring to sexuality, and it is important to note the difference there.
"Moving into the Genderbread handout we want to focus on the distinctions between gender, sex, and attraction. Traditionally, we use the word 'gender' to simply mean either 'man' or 'woman.' We describe this as the 'gender binary,' a phrase you've probably heard, meaning just two options. But in reality, the way folks experience gender is far more complex than that. We call this a 'non-binary' understanding of gender. But the binary terms and general ideas they evoke — the idea of 'man' and what that means, and the idea of 'woman' and what that means — are helpful in understanding the more diverse ways folks experience and make sense of gender." 
And the following bizarre sentence appears later in the lecture: "There are multiple reasons and ways that our bodies look the way they do or are the way they are. Cancers or other illnesses, hormone imbalances, transition genders can all play a factor in the type of sexed body that we have and regardless of what we have going on we may identify a particularly biological sex regardless." 
This and similarly destructive (some might even say insane) propaganda has been influencing young minds for years, as the following section will show.
Generation Z Identifying as LGBT
Anyone tempted to dismiss the LGBT lobby's influence in our culture and the schools may want to think again upon learning the results of a new Gallup poll. On February 24, Western Journal News  reported the findings, which show that for the year 2020, among the age group 18–23 identified as Generation Z, "almost 16 percent said they were in a category that was not heterosexual." This is approximately eight times the percentage of older Americans identifying that way. Among Americans aged 56 and older, "only two percent labeled themselves" as not heterosexual. 
Gallup editor Jeffrey Jones attributed the change to "a greater acceptance of varied lifestyles" among younger people, which is not surprising when the indoctrination begins in kindergarten that alternative lifestyles are equal to or even better than the traditional order established by God for mankind (and all living creatures).
The Gallup survey found that "the LGBT population among Millennials (ages 24-39) was at 9.1 percent, while for Generation X (ages 40-55) the same population was at 3.8 percent. Among Baby Boomers (ages 56-74), two percent identified as LGBT. Among what the poll called Traditionalists who were over the age of 74, 1.3 percent said they identified as LGBT."
Overall, the results showed that 5.6 percent of those surveyed said they were LGBT — up from 4.5 percent in 2017 when Gallup conducted a similar poll. The survey included 15,349 adults over the age of 18, with a margin of error plus or minus one percentage point. 
Western Journal News, 2-24-21; Gallup.com/poll-LGBT Identification Rises; https://www.genderbread.org/
Education News Briefs
A new UN Report pushes for more sexual freedom for children. "Parents might rise up to oppose this new report on children and 'privacy' if they knew it existed," says Austin Ruse of the pro-family UN watchdog organization, C-Fam. Published by the UN Human Rights Council, the report describes "sexual expression" as part of the "interwoven fabric of children's privacy." In UN-speak, this means freedom for underage youngsters to obtain abortions and contraception without parental knowledge or consent, as well as sex-altering hormones and other gender-related treatments. The report asserts that adolescents have diverse gender identities and sexual orientation but fails to explain that these notions have been burned into their minds by years of LGBT propaganda. The report also contends that "adolescents need to be able to make decisions regarding their well-being and bodies, and to safely and privately explore their sexuality as they mature, whether offline or online." These rights, it claims, are infringed upon by "governments, commercial entities, health-care providers and other professionals, parents, and peers." The UN has been pushing for extreme "rights" for children for decades. In 1995, the UN Convention on the Rights of the Child sought to expand the autonomy of children and completely nullify the rights of parents. While many countries did ratify this bad treaty, it was never ratified by the United States, mostly because garnering a 2/3 majority of liberal votes in the Senate has so far been impossible. Phyllis Schlafly worked effectively for years in opposition to this treaty, but vigilance is needed because new attempts to ratify it are always possible, especially under the current administration in Washington. C-Fam.org/friday_fax/un-report-on sexual-freedom-for-kids; C-Fam, 2-26-21
Bill Gates is supporting a "math is racist" narrative to the tune of $1 million. The anti-racism agitprop that has infected media, business, cultural organizations, and much of school curricula, is setting its sights on math. A group called the Pathway to Equitable Instruction is working to fix alleged "signs of white supremacy in mathematics." This group is composed of California-based education establishment officials and professors from the University of California system, among others. Its website thanks partners and contributors, with a special shoutout to "the Bill and Melinda Gates Foundation for their generous financial support." A Pathway to Equitable Instruction Guide decries as "white supremacy culture" the "focus on getting the 'right' answer" in math problems, the emphasis on "real-world math," the establishment of state standards to direct and measure in-class learning, and the sequential skills instruction common to math. While many educators have long advocated for sound math instruction to counter any inequity among minority students, Pathway debunks this thinking as "either/or thinking" that "allows the defensiveness of Western mathematics to prevail." They recommend instead what they call "ethnomathematics." The guide says students may "recognize the ways that communities of color engage in mathematics and problem solving in their everyday lives" or "challenge the ways that math is used to uphold capitalist, imperialist, and racist views." It encourages teachers to "acknowledge the mathematical knowledge of students of color, even if it shows up unconventionally." In other words, this Gates-supported social justice endeavor is designed to create racial hatred and division among vulnerable children without teaching them the math skills that would contribute to their eventual success in the real world. Leadership Institute Campus Reform Project, 2-23-21; Pathway to Equitable Instruction
---
Book Review
Answers Behind the Red Door: Battling the Homeless Epidemic
Michele Steeb, with David M. Flanagan, S-Club Publishing, 2020
Reviewed by Linda Rusenovich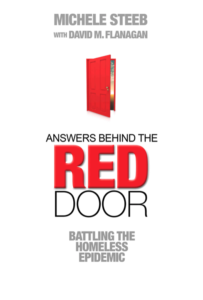 Michele Steeb served for twelve years as executive director of St. John's Program for Real Change (the "Red Door"), which is the largest, most comprehensive residential change program for women and children in Northern California. Residential change programs generally seek to effect positive outcomes for people who have been incarcerated and/or who suffer from some form of addiction. Steeb's work won civic awards and prompted the State of California to start a similar program for women being released from prison. Her book describes the social and political factors affecting homeless women and children in Sacramento, California. 
The author quotes statistics showing that the homeless population is increasing not only in west coast cities like San Francisco and Portland, but also across the country, and Steeb thinks the federal "Housing First" policy is making the problem worse. The U.S. Department of Housing and Urban Development (HUD) implemented Housing First in 2008 to assist mentally ill and addicted people living on the streets. But between 2011 and 2013, HUD expanded taxpayer-funded housing to all homeless persons, while at the same time cutting funding for social services.   
HUD's website defines Housing First as "an approach to quickly and successfully connect individuals and families experiencing homelessness to permanent housing without preconditions and barriers to entry, such as sobriety, treatment or service participation requirements." Steeb argues that this policy hurts women who want to change their self-destructive behaviors. It encourages dependence on government instead of teaching them how to lead productive lives whereby they can provide for themselves and their children. Housing First shelters these women near hardened addicts and criminals, leaving them without convenient access to social services. 
Steeb explains how St. John's addresses the root causes of homelessness for women who are motivated to change and who are willing to commit to the eighteen-month program. Upon admission, all of these women are unemployed. Most have suffered abuse and/or other trauma and are addicted to alcohol or drugs. Many have a history of violent relationships, mental health challenges, or criminal records. About half lack a high school diploma. Although most are mothers, a quarter are separated from their children.
The St John's program provides a safe, clean environment where clients can work on their sobriety, mental health, and personal relationship skills. Each woman is screened, and a case manager assigns an individualized program which may include substance abuse counseling, group therapy, parenting classes, job training, and budgeting. Clients who lack a high school diploma can work toward earning their GED.
Children on the St. John's campus live with their mothers and attend the early childhood development center or take a school bus to the local public school. Separated families may be reunited during the program as mothers make progress toward goals set by California's Child Protective Services.
The personal stories of the women who pass through the St. John's program, their struggles, and successes, are very touching and even inspiring. Steeb's compassion for their plight is genuine and contagious, and readers find themselves rooting for each woman to succeed. The author's background gives her credibility when she argues for individualized case management versus the one-size-fits-all approach of the Federal Housing First Program.
Steeb disputes HUD's data on the costs and effectiveness of Housing First, referring to academic studies and press reports which contradict it. This discussion seems too broad for the one chapter she devotes to it, but she does raise questions that highlight a need for better independent research to guide government policy. Professional editing may have made sections of this self-published book more readable, but Steeb's message comes through loud and clear.
Answers Behind the Red Door helps to humanize "the homeless" and shows how government policies can exacerbate or relieve their suffering. This is a good read for any civic leader or citizen concerned about homelessness in their community.  
Editor's Note: Linda Rusenovich is a mom and free-lance writer. She admires programs such as St. John's and recognizes their value in serving people struggling with homelessness.
---