Historically speaking, leftists aren't big fans of the free market system of economics. They want to tax and regulate small businesses into oblivion. On top of this, they like to sue any surviving businesses who do not align with the liberal social politics of the day. On the other hand, conservatives believe consumers should determine what businesses should and should not remain open, not the government. One liberal entrepreneur in Australia got an all too real taste of what happens when consumers pick winners and losers in a free market.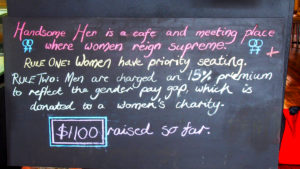 Back in 2017, a restaurant called "The Handsome Her Café" made headlines for placing a "gender surcharge" on any and all male diners to make up for the supposed "gender pay gap" that feminists like to talk about so much. They also gave women priority seating and decked out the walls of their vegan feminist café with pictures of supposed icons of women's empowerment like former First Lady Michele Obama. Located in an inner-city neighborhood of the liberal city of Melbourne, the Handsome Her Café was sure to be a hit. At least, that's what they thought until the owners announced that the restaurant was closing down due to lack of business. It looks like that extra eighteen percent from male customers wasn't quite enough to keep their feminist food dream alive.
Who's to blame for the end of the Handsome Her? Could it be the evil patriarchy conspired against them? Could it be that male chauvinist pigs sabotaged their restaurant by posting bad reviews saying how men were called "vile beasts" by the restaurant's staff? Could it be that the toxic masculinity of our meat-eating culture made it so people thought their vegan tofu tasted like slime? Well, perhaps. Or maybe the Handsome Her went out of business because their vegan food tasted bad and nobody likes to be treated poorly in a restaurant simply for being a man. You be the judge.
Either way, it appears as though capitalism has struck once again. I can't think of a better argument for the free market than this.