For Immediate Release: February 3, 2021
Contact: Ryan Hite, Communications Director
Senator Hawley has been one of the most vocal leaders in the Senate on fighting electoral fraud.
Washington, D.C.: Phyllis Schlafly Eagles is honoring the courageous members of Congress who took part in the fight against the certification of the 2020 fraudulent election with a special 74 Million Club Eagle Award.
"Senator Josh Hawley has been one of the most vocal advocates for our Constitution and our sacred electoral process," said Ed Martin, president of Phyllis Schlafly Eagles. "Before many others were willing to speak out, Sen. Hawley was outspoken in defense of We the People. He is a fighter who needs our support."
Senator Josh Hawley of Missouri has a well-deserved reputation in the halls of Congress as a scrappy defender who never backs down from his responsibility to safeguard his constituency. When the results of the 2020 presidential election came into question, Hawley was not afraid to join Rep. Scott Perry (PA) in objecting to Pennsylvania's certification fraught with credible accusations of fraud. For defending the integrity of America's electoral process, Sen. Hawley deserves to be honored.
For more information on the 74 Million Club and a complete list of award recipients visit 74MillionClub.com.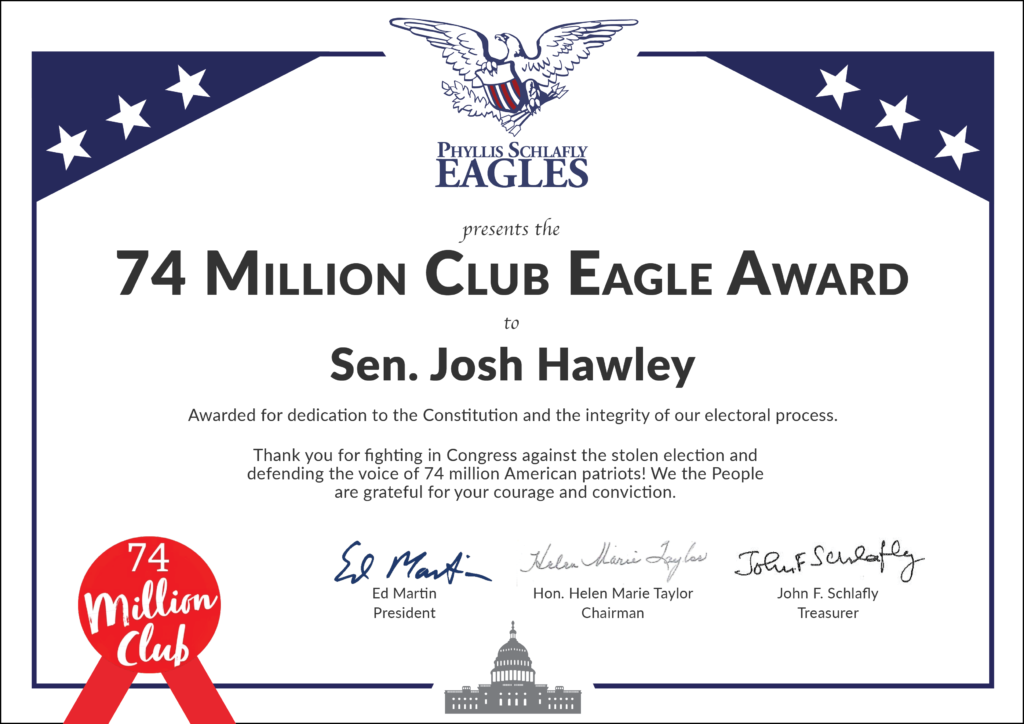 ###