For Immediate Release: February 5, 2021
Contact: Ryan Hite, Communications Director
Perry was a primary leader against the fraudulent certification of Pennsylvania's results.
Washington, D.C.: Phyllis Schlafly Eagles is honoring the courageous members of Congress who took part in the fight against the certification of the 2020 fraudulent election with a special 74 Million Club Eagle Award.
"Representative Scott Perry is a man of conviction," said Ed Martin, president of Phyllis Schlafly Eagles. "He understands that our representative system is at the very heart of our Republic and it must be defended at all costs. He stood up and lent his voice to the hundreds of thousands of PA voters who were disenfranchised by corrupt state executives and courts."
Rep. Scott Perry of Pennsylvania is a true champion for the people of his state. When Pennsylvania came under national scrutiny for allegations of rampant fraud and corruption surrounding the 2020 presidential election, Rep. Perry became a powerful voice for integrity and honesty. He courageously led objections to Pennsylvania's questionable Electoral College certification. As a stalwart defender of the people's voice, he deserves to be honored.
For more information on the 74 Million Club and a complete list of award recipients visit 74MillionClub.com.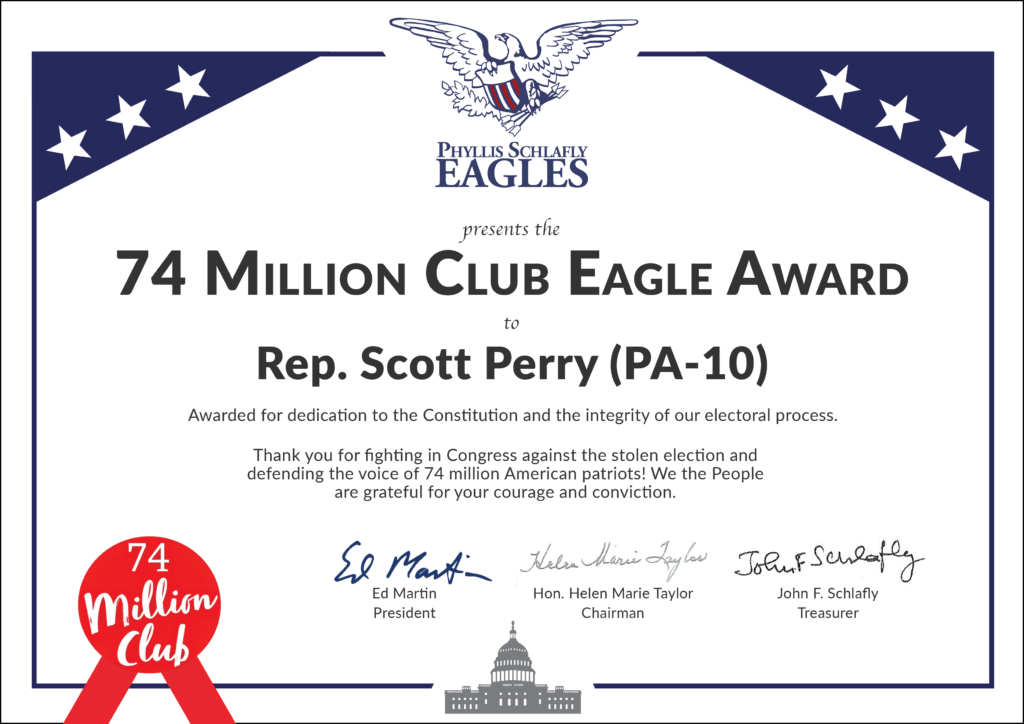 ###