For Immediate Release: February 5, 2021
Contact: Ryan Hite, Communications Director
In the Arizona election tumult, Rep. Paul Gosar stood strong for the Constitution.
Washington, D.C.: Phyllis Schlafly Eagles is honoring the courageous members of Congress who took part in the fight against the certification of the 2020 fraudulent election with a special 74 Million Club Eagle Award.
"Representative Paul Gosar has long been willing to be a voice alone in defense of truth," said Ed Martin, president of Phyllis Schlafly Eagles. "Phyllis Schlafly admired him for his courage against all pressure and our Eagles admire him still. He has overcome many electoral challenges and understands more than most that our electoral process must be strong and transparent. When trouble took over in the days following November 3, Paul Gosar never lost sight of fighting for the will of Arizona voters."
Rep. Paul Gosar of Arizona understands the importance of election integrity. Though the mainstream media did their best to make the words "election integrity" an unmentionable phrase, Rep. Gosar refused to be silenced. He stood up for the voices of millions of Arizona voters by initiating a call to hold the state's election authorities to account. For leading the motion to object to Arizona's Electoral College certification, he deserves to be honored.
For more information on the 74 Million Club and a complete list of award recipients visit 74MillionClub.com.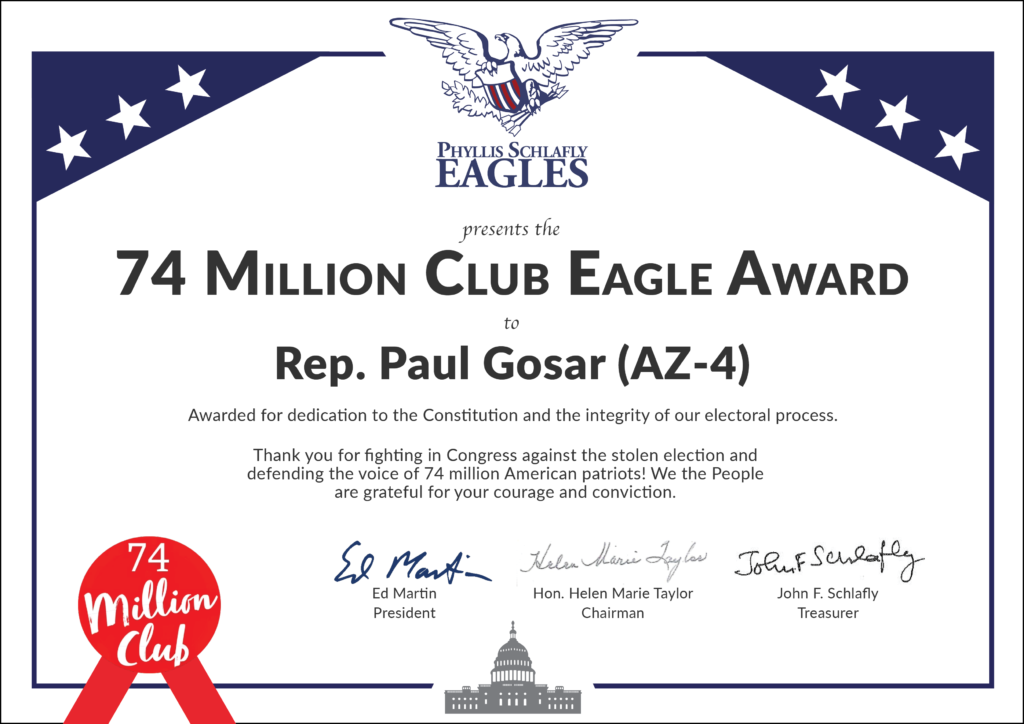 ###