For Immediate Release: February 4, 2021
Contact: Ryan Hite, Communications Director
Andy Biggs has been one of the most active leaders against the stolen election.
Washington, D.C.: Phyllis Schlafly Eagles is honoring the courageous members of Congress who took part in the fight against the certification of the 2020 fraudulent election with a special 74 Million Club Eagle Award.
"Representative Andy Biggs loves our Constitution," said Ed Martin, president of Phyllis Schlafly Eagles. "He was one of the first out of the gate to fight against this stolen election result, not only among members of Congress but any conservative leaders. His fierce defense of our Republic cemented him as one of Phyllis Schlafly's favorites."
Rep. Andy Biggs of Arizona is a man who places high value on the will of We the People. Despite tremendous pressure from the political establishment, Rep. Biggs made the bold decision to raise his voice in objection to Electoral College certifications in six key states. This was not Rep. Biggs's first fight against the Washington political machine, nor is it likely to be his last. However, his courageous action to protect the voice of millions of Americans typifies the spirit he brings to the halls of Congress. For this unquenchable spirit, Rep. Biggs deserves to be honored.
For more information on the 74 Million Club and a complete list of award recipients visit 74MillionClub.com.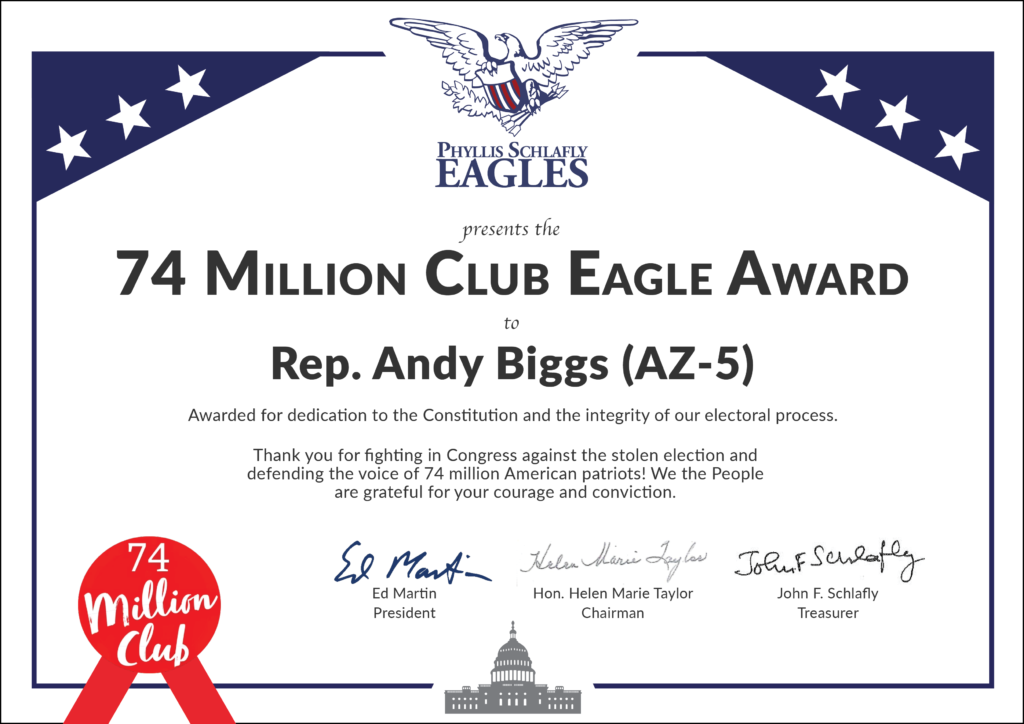 ###