Phyllis Schlafly was always quick to inform us of casualties in the vicious war on Christianity in the public square. It is in that spirit, I am happy to inform you of a victory this year for the public display of our Judeo Christian values. Many of you are familiar with the infamous "Freedom From Religion Foundation" that advocates across the country for the so-called "separation of church and state." Their usual job is to threaten small towns with a lawsuit over the display of Religious symbols. The initial report always suspiciously comes from an unnamed resident.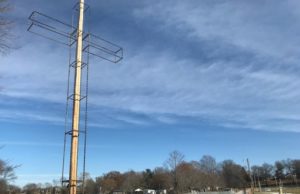 Well this year's target was a public park in the small town of Ozark, Missouri. Finley River Park, land that the city leases from private owners, is home to the city's drive-through Christmas light display. They also house a year-round display of a large steel cross with lights. The cross came under fire from the Foundation just in time for the Christmas season in December. 
Initially, the City of Ozark put out a statement saying that they simply could not afford costly lawsuits and knew the history of other suits of this type. They chose to turn off the cross and remove it rather than face costly legal battles and bankruptcy. At least, that was their decision until the people of Ozark spoke up! Upon hearing the news and seeing the cross go dark, citizens were very distressed and began to flood city hall with their calls of support for the cross. 
As the outcry grew, the mayor quickly responded with a new statement: "The controversy about the lighted Cross in the park is NOT over. … The cross is NOT down and WILL be lighted tonight. We have heard your thoughts and agree with them."
I'm glad to say the City found a way around this controversy while refusing to remove the cross completely – as the atheist group had requested. The cross will stay in the park and a part of the annual light display, but is being moved to a patch of ground that is privately owned. 
We celebrate with Ozark, Missouri in this victory, and we are grateful for city officials who decided not to be another victim of atheist bullies.