You'd be hard put to find an entity more unlikeable and easy to poke fun at in 2018 than Mark Zuckerburg and the well-known, liberal political machine of Facebook. From well documented cases of throttling conservative page viewership to total Democrat support and donors at the executive levels, it comes as no surprise that Facebook does not like conservatism.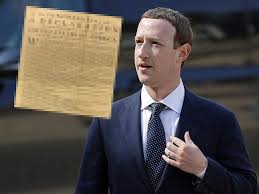 A recent story of Facebook censorship illustrates this well. The managing editor of the Liberty County Vindicator in Liberty, Texas, noticed that Facebook's automatic filtering program had removed a post containing part of the U.S. Declaration of Independence! The newspaper had been uploading the Declaration in sections on July 4th when they noticed one missing. The politically-correct Facebook algorithm apparently flagged a line complaining about King George's "domestic insurrections amongst us…to bring on the inhabitants of our frontiers, the merciless Indian Savages…"
To the Facebook bots, this 18th century language constituted 'hate speech.' This was an automatic action, and Facebook has apologized to the paper. But it reveals the not-so-automatic programming of a very progressive political agenda in the social media giant. Thankfully, conservatives are rising up to challenge them.
In fact, you have a great opportunity to meet two of the big players in this battle next month in St. Louis! Phyllis Schlafly's Eagle Council – now in its 47th year – continues every September. This September 14, 15, and 16 in St. Louis, Missouri, you can attend a conservative training event that will be packed with nationally known speakers and experts, helpful workshops, and national networking with other activists.
Two of our speakers this year will devote much time to the topic of social media. One is investigative journalist James O'Keefe, who is focused on bringing down the anti-First Amendment, liberal behemoths of social media. Jim Hoft is another well-known name – the operator of the Gateway Pundit news site. Jim is currently in a heated battle with Facebook over the blatant throttling of his work. To hear from these two conservative giants, you can register today at www.PhyllisSchlafly.com! That's PhyllisSchlafly.com.