For Immediate Release: February 2, 2021
Contact: Ryan Hite, Communications Director
Senator Cruz led the senate charge in officially objecting to the fraudulent electoral vote count certification.
Washington, D.C.: Phyllis Schlafly Eagles is honoring the courageous members of Congress who took part in the fight against the certification of the 2020 fraudulent election with a special 74 Million Club Eagle Award.
"Anyone can talk about action, but someone must take the first step and lead," said Ed Martin, president of Phyllis Schlafly Eagles. "On January 6 we needed at least one senator and one representative to step forward and take such a first step. Ted Cruz was that voice — objecting to certain states' electoral college results based on evidence of targeted fraud to shift the states from Trump to Biden. Senator Cruz led other members of his body stand up for the Constitution and We the People."
Senator Ted Cruz of Texas lent his powerful voice to the millions of Trump voters who lost faith in America's electoral process amid clear evidence of fraud and corruption. As the former Solicitor General of Texas, Sen. Cruz wisely advised that Congress take the time to consider the evidence rather than ramming through blind adherence to potentially tainted certifications. For demanding that our nation accept nothing less than the will of We the People, Sen. Cruz deserves to be honored.
Martin continued: "We are thrilled to give Senator Cruz this 74 Million Club Eagle Award and look forward to his continued fight for our liberty in our republic!"
For more information on the 74 Million Club and a complete list of award recipients visit 74MillionClub.com.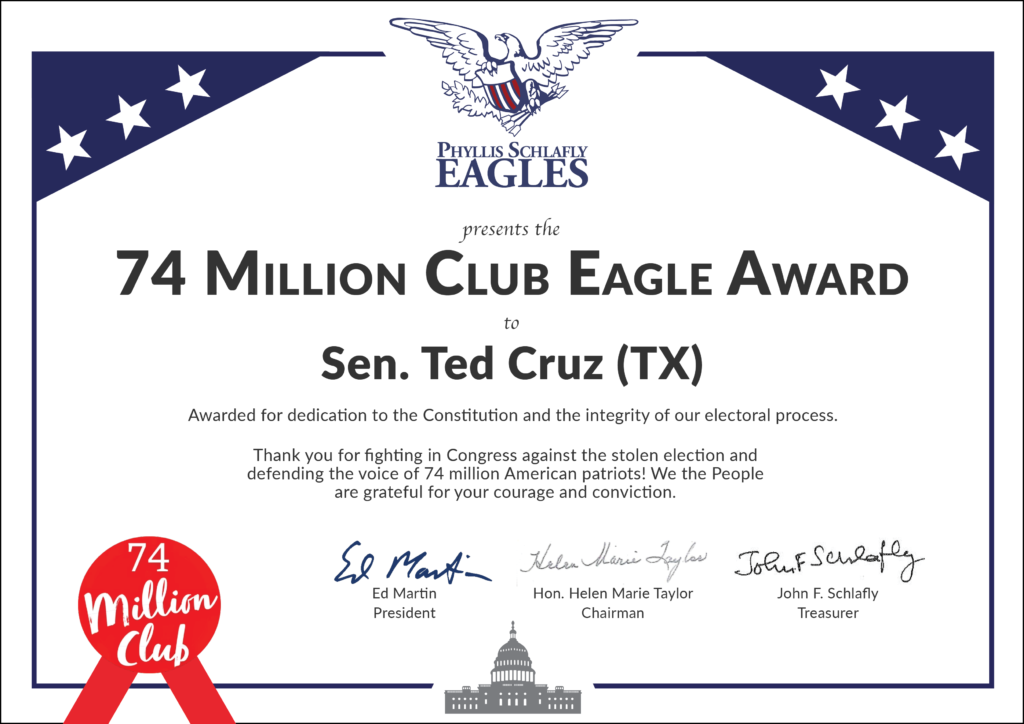 ###