For Immediate Release: February 1, 2021
Contact: Ryan Hite, Communications Director
Rep. Brooks paved the way for the Congressional fight against stolen election.
Washington, D.C.: Phyllis Schlafly Eagles is honoring the courageous members of Congress who took part in the fight against the certification of the 2020 fraudulent election with a special 74 Million Club Eagle Award.
"We can think of no greater asset to We the People in Congress than Rep. Mo Brooks," said Ed Martin, president of Phyllis Schlafly Eagles. "Without his leadership on this issue long before the January 6 votes on certification, there may not have even been an organized fight in Congress to defend our electoral integrity."
Representative Mo Brooks of Alabama is a defiant patriot who refuses to be silenced by political pressure. He cemented his role as champion of "We the People" when he became the first to commit to challenging state certifications in the stolen election of 2020. It was Rep. Brooks' clarion call to action that paved the way for others to follow. Rep. Brooks was first in the fight for truth, and for that he deserves to be honored.
Martin continued: "We are delighted to give Representative Brooks this 74 Million Club Eagle Award and we will always remember his courage and grit in this fight to defend our republic!"
For more information on the 74 Million Club and a complete list of award recipients visit 74MillionClub.com.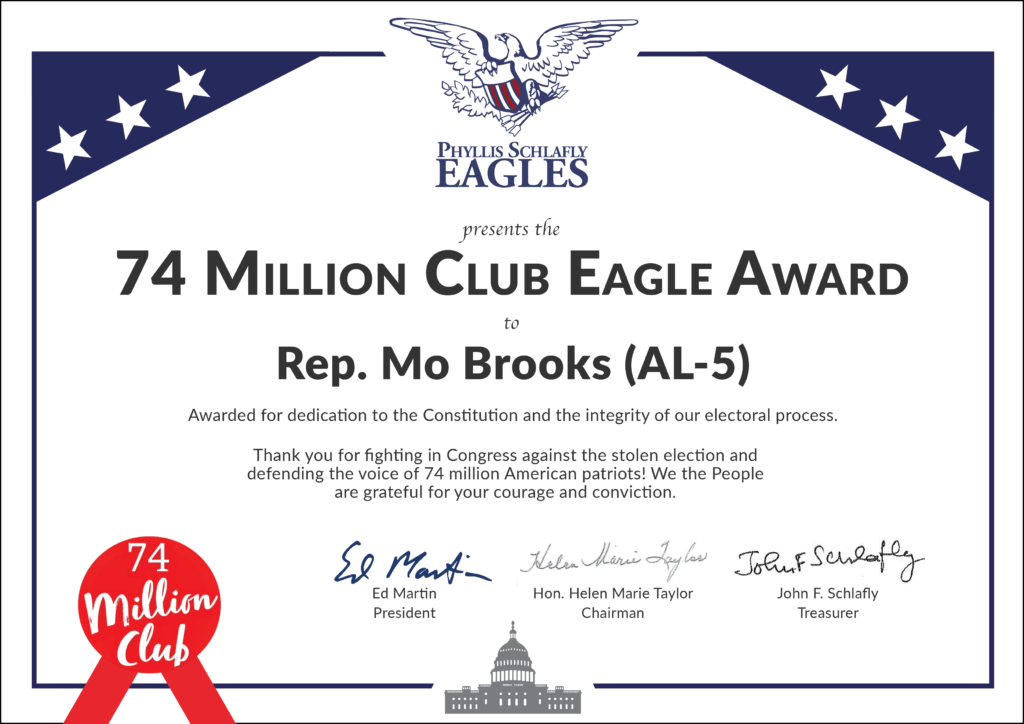 ###